First Customer Shipments of Stereax® M300 Stacked Batteries
Posted on: in News
Ilika, a pioneer in solid state battery technology, have made a number of first customer shipments of stacked Stereax M300 batteries from its UK manufacturing facility. Further to the announcement of 11 April 2023, these shipments are the first of a series of planned deliveries of Stereax M300 batteries to customers including CubeWorks, the developer of millimeter-scale smart sensing solutions for IoT, and Lura Health, a leading developer of wearable intraoral biosensors for salivary diagnostics. Stereax batteries can be configured such that they can be stacked, which provides customers with the flexibility to adapt the battery capacity for their application.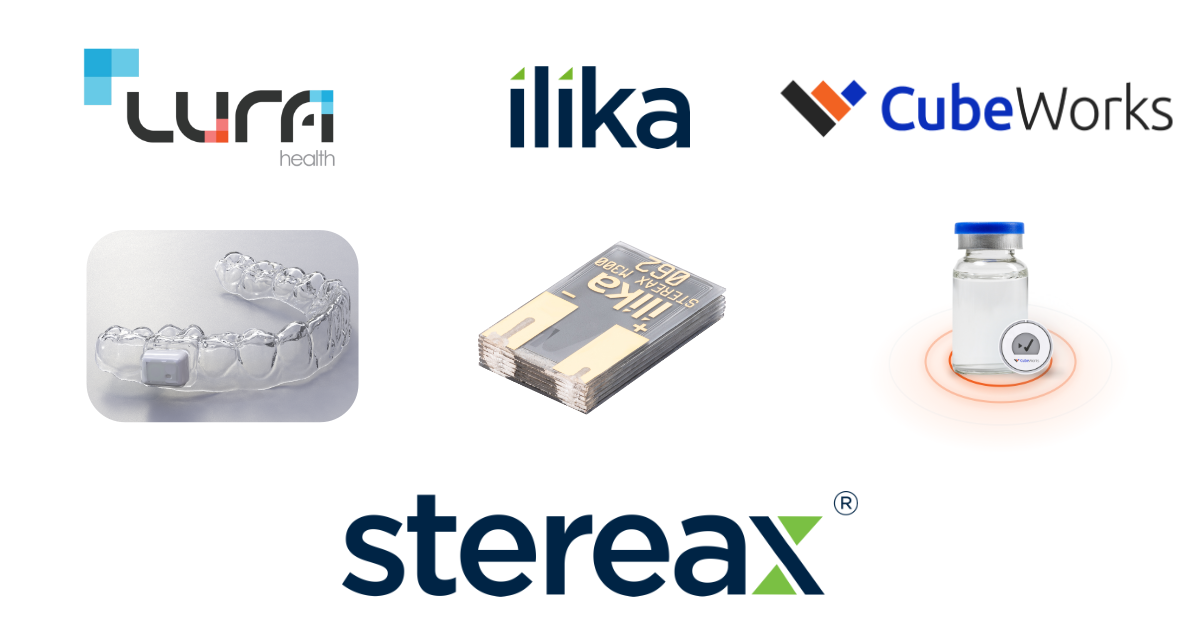 The small form factor of M300 batteries is of particular interest to Ilika's customers due to their compact, high-density and high-power characteristics. CubeWorks is designing CubiSensTM, a next generation sensing platform, aiming to transform biopharma cold chain logistics, security control, asset protection and environment monitoring.
Lura Health has developed the world's first salivary diagnostic, wearable sensor, first embedded in traditional orthodontic appliances including retainers, bands, and brackets, and eventually in prosthodontic appliances including dentures, implants, and bridges. Worn in the mouth continually throughout the day, it continually measures analytes in saliva, and provides real time streams of health data by Bluetooth Low Energy to a smartphone.
Cirtec Update
Ilika and Cirtec Medical LLC ('Cirtec'), a strategic outsourcing partner of complex medical devices including minimally invasive and active implantable devices, are continuing to finalise the terms of their intended partnership.
Graeme Purdy, Ilika's Chief Executive Officer said: "Building on the first shipments of Stereax M50 cells last month, our team has delivered the first batches of Stereax M300 batteries to support our customers' product development programmes. CubeWorks and Lura Health are strong examples of breakthrough technology being enabled by Stereax products. We will work closely with Cirtec to jointly market Stereax technology and ramp up production capacity to support our customers' needs going forward."
Gyouho Kim, CubeWorks Chief Executive Officer, commented: "We are thrilled to start integrating Ilika's breakthrough battery technology to further enhance our CubiSensTM product line up. Batteries have traditionally been one of the major bottlenecks in IoT, and Ilika's battery technology offers a unique balance of form factor and performance that can complement our ultra-efficient SoC (System-on-Chip) solution to achieve exciting new products."
Daniel Weinstein, Lura Health Chief Executive Officer, commented: "Small form factor is important in the design of Lura Health's salivary diagnostics sensor. We are looking forward to qualifying Ilika's technology and understanding its potential benefits to our future product road map."
About Ilika Technologies
Ilika specializes in the development of solid-state batteries. Its Stereax® product line is designed for miniature medical devices and specialist internet of Things (IoT) applications. Stereax® enables disruptive product designers looking for an intrinsically safe, long life (1000s recharges), low leakage (nA) and miniature power source in a rectangular form factor similar to ICs. For more information about Ilika, please visit: https://www.ilika.com.
About CubeWorks
CubeWorks brings to market a portfolio of ultra-low-power, ultra-small wireless smart sensors. These sensors offer limitless potential across a broad range of applications and provide access to mission-critical information exactly when and where it is needed. For more information, please visit https://www.cubeworks.io/
About Lura Health
Lura Health's mission is to provide everyone with continual streams of critical health data, anytime, anywhere, to prevent health emergencies, manage chronic diseases, and achieve health goals. Lura Health and its founders have received notable press-coverage from the Verge, TechCrunch Disrupt and Forbes 30 Under 30, and funding from National Science Foundation SBIR phase I and II awards and SOSV, a $1B AUM deep-tech investment firm. Please visit https://www.lurahealth.com/