Scale-Up Trials on Equipment for Production: An Update on the STEP Project
Posted on: in Blog
In September 2022, Ilika was awarded a £175,000 grant from the Advanced Propulsion Centre's (APC) Automotive Transformation Fund (ATF), supporting a 9-month long series of manufacturing equipment trials. Now one third of the way through we have just given a successful progress update to the APC. The purpose of the project, named Scale-Up Trials on Equipment for Production (STEP), is to de risk scale-up activities within our roadmap. Scaling-up can be a risky business and moving from research to manufacturing of our Goliath solid state batteries for electric vehicles requires careful planning.
The project enables us to trial critical processes at larger scale before we commit to purchasing expensive equipment. These machine trials typically take place at supplier sites in advance of any purchasing decisions. The program also enables us to look at UK suppliers for materials, ensuring that they would be affordable at scale and validating them within our batteries. Again, helping us move beyond our existing international R&D scale supply chain. Throughout the project we will aim to source from British suppliers as the core philosophy of our upscaling is to have a UK supply chain, in support of the automotive industry "Rules of Origin" concept.
We organised trials along these three areas of development:
Slot Die
Conveyorized Furnace
Materials
All of them will move us from R&D scale to industrial manufacturing scale equipment and materials.
Slot Die Formulation
For R&D purposes we've been laying down our inks using a semi-manual screen-printing process, whilst useful for R&D this isn't a scalable process due to the time and number of passes taken to build up the required deposition thickness. Improving the rate , critical to cost, means a move to a roll to roll process. This can be provided by a slot die coater with a continuous flow of printing. Slot die is also a compatible process with our future up-scale partners and has been demonstrated already industrially even at Giga-scale. Our trials on such a machine, at a major British manufacturer of printing equipment, gave such encouraging results that we are now ready to bring this part of the process in-house and have purchased a slot die proofer as an initial step.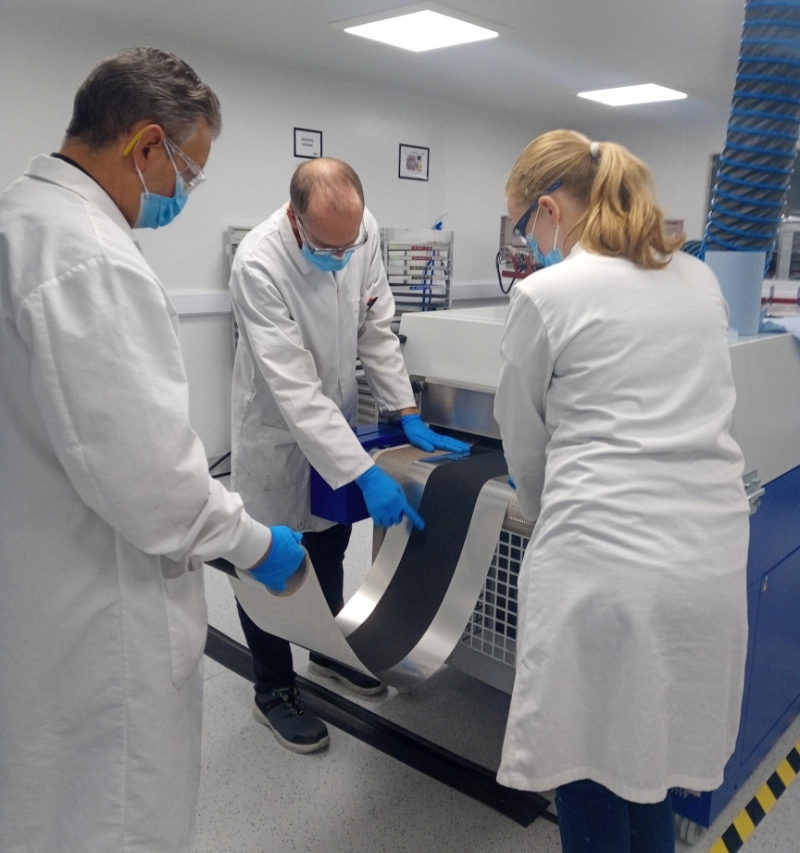 In trialling roll to roll printing we found that we needed to make adjustments to our ink formulations. Adjusting these formulations enables us to use solvents with a lower boiling point, good news as they take less energy to evaporate and then re-condense allowing us to dry things more efficiently. The electricity cost on electrode drying being up to 40% of total site energy bill! We'll be using our new slot die proofer to trial different iterations of our inks and having already completed the trials with the British manufacturer we're confident we can make this work. Once that's done – later in the project – we'll purchase a larger slot die coater and so will soon own a piece of equipment which is standard in the deposition of films roll to roll in the lithium battery industry.
Belt Furnace
For our sintering trials we selected a UK furnace manufacturer and used their applications lab to sinter over 900 samples. Sintering uses heat to compact and form the solid state batteries. We again obtained positive results from these trials and as a result have ordered a large scale belt furnace. This now allows us to conduct a continuous sintering process which in turn increases both throughout and process yield when compared to our existing R&D oven. As with printing the move to a larger scale and continuous sintering process won't be a straight translation, new sintering heat profiles will have to be developed and this too will be done as part of the STEP project.
Materials
A solid electrolyte is the unique part of our solid state batteries, differentiating our technology from traditional lithium ion batteries. The final part of the STEP project looks at a UK supply chain for electrolyte material and includes studies on cost at scale and industrial scale-up plans. Whilst the supply chain for anode and cathode materials is well-developed, the supply chain for solid electrolyte is still maturing and undergoing "rate of learning" expansion. Ilika will be trialling oxide electrolytes from a variety of suppliers. Amongst them is another UK company that can provide good quality oxide electrolyte which has already been validated in our batteries. They have developed a synthesis route which is fully scalable and thus will enable price parity between solid state and lithium ion batteries at large scale production.
Next Steps
We are now a third of the way through the project and have already learnt a lot. Over the next two months we will be doing further trials on UK equipment and materials. A key benefit, and reason we have been so well supported from UK Grant agencies, is our dissemination of solid state industrialisation know-how. We see Ilika as a critical knowledge hub within the UK battery industry, totally focussed around solid state technology and over time helping to create a supply chain that could then go on to support a global solid state battery industry.
With the battery packing being up to 40% of the BOM cost of a car, and rules of origin dictating import duties when selling UK built cars overseas , creating next generation battery technology, industrialising it and then manufacturing in the UK is vital to the future health of our automotive sector